breakfast: Special K with strawberries and soymilk; orange juice; coffee
lunch: leftover macaroni and "cheese;" romaine lettuce with Annie's Goddess dressing, sunflower seeds, cashews, cherry tomatoes, and carrot chunks
snack: Mamba; flour tortilla with peanut butter
dinner: Boca burger with avocado, roasted red pepper (out of a jar, pretty good), and ketchup on homemade multigrain bun with pecans (click for the recipe); enoki mushrooms sauteed in olive oil, garlic, fresh parsley, salt, and pepper; lettuce and cherry tomatoes with lemon; green tea with agave
bread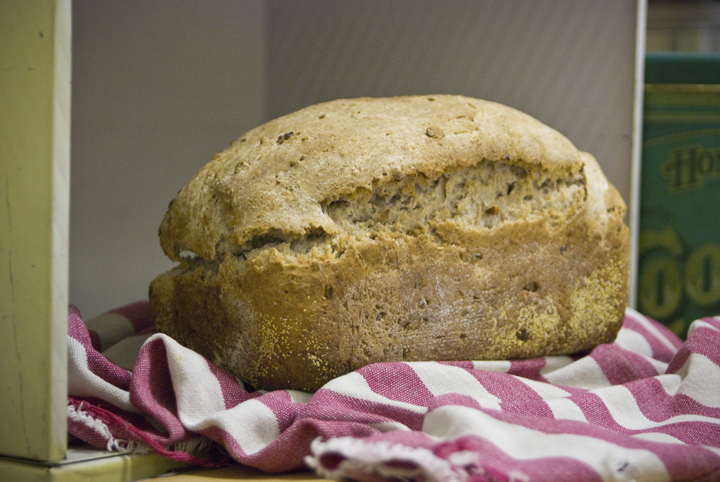 1 packet yeast (I believe this is slightly over 2 tsp)
1/4 c very warm water (just getting uncomfortable to touch)
splash of maple syrup (any sweetener would do)
4 c white flour
2 c whole wheat flour
2 tsp salt
1/4 c sunflower seeds (or however much you want)
1/8 c flax seeds (")
1/8 c sesame seeds (")
1 c crushed pecans (I just crushed them in my hands)
1/4 c granulated sugar (any sweetener would do)
1/4 c olive oil
water (about 2 cups)
Combine yeast with warm water and stir to dissolve.  Let sit for a couple minutes, and add the splash of sugar (to help the yeast grow… does this really work?). Let sit a few more minutes (you should see it start to froth up).
Mix flour, salt, seeds, nuts, and sugar in a bowl.  Add the yeast mixture, oil, and water, and knead.  Add enough water so that you can knead all the flour into the dough without the dough sticking to your hands (a little bit of sticking is okay after this first mixing).  After it is fully mixed, if it is sticky, add a bit more flour; if it seems dry or if you can't knead all the flour in, add more water.  Once mixed, spread a thin layer of olive oil on the surface of the dough, cover with a damp towel, and let rise (at room temperature or slightly warmer).
After rising (as long as you want… about 45 minutes is good), punch the dough down and knead (about 10 minutes?  Less if you knead like you need it).  If it sticks to your hands, sprinkle whole wheat flour on the kneading surface and knead it in (repeat until it is no longer sticky).  After kneading thoroughly, separate the dough into whatever loaves or rolls you are baking.  Let rise like this for another 15 minutes or so (it will rise more in the oven).
Bake at 425 until the outside is browning and the loaves make a hollow sound when you hit them.  The rolls I made took about 25 minutes, the loaf 30 minutes.