brunch: rosemary toast with blueberry jam and Earth Balance; leftover potato salad
Gorilla coffee
tastes while cooking; Kiuchi Brewery Hitachino Nest Real Ginger Brew (vegan according to Barnivore) and Dogfish Head Raison D'Etre (vegan according to Barnivore)
dinner: red-chili-seitan tamales and mole-vegetable tamales (all recipes, including red chili sauce, mole sauce, red seitan loaf, tamale dough and assembly instructions, from Viva Vegan!), served with extra mole and chili sauces, green salsa, cilantro, lime, and Follow Your Heart vegan sour cream; quinoa salad (click for the recipe); sauteed chard; Lagunitas Censored copper ale (vegan according to Barnivore)
side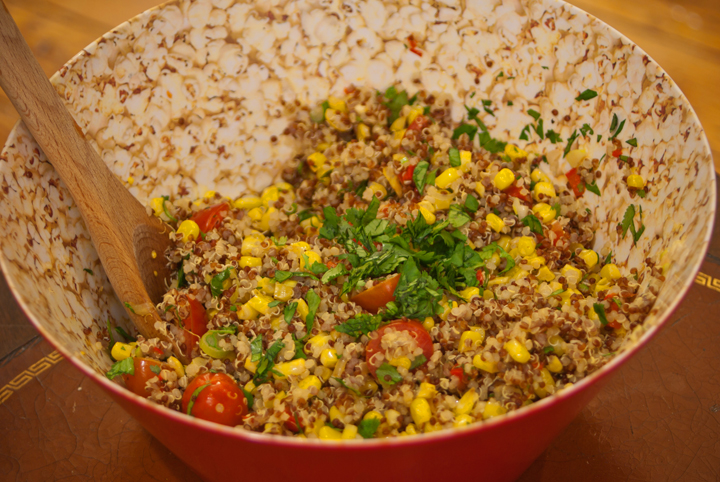 1c quinoa (I used 50:50 red:white)
1/4 onion or 1 shallot, minced small
1/4 red bell pepper, minced small (optional)
2 cloves garlic, minced small
1 chipotle pepper (from can with adobo sauce), minced small (use 2 if you want it to be spicy)
1-2 c frozen corn (depending on how corny you want this)
handful of cherry tomatoes, halved
olive oil to taste (~1-2T)
apple cider vinegar to taste (~1T)
juice of 1 lime (or to taste)
2 green onion stalks, chopped
big handful of cilantro, rinsed and chopped
Cook quinoa according to directions (I soak for 15min., then rinse several times, drain, and cook with 1:1.5 quinoa:water, adding more water if necessary.  I usually cook it with a bay leaf, dash of sea salt, and a bit of olive oil.)
While quinoa is cooking, saute the onion, garlic, bell pepper, and chipotle pepper in olive oil.  Add the corn, and saute until the corn is starting to brown and has absorbed a bunch of the flavors.
After quinoa is done cooking, let cool (transfer to shallow dish and refrigerate if you are in a hurry).
Toss the cooled quinoa and the sauteed vegetables in the olive oil, vinegar, lime juice, cherry tomatoes, green onions, and most of the cilantro.  If you want to taste more chipotle, add straight adobo sauce from the can.  Serve with the remaining cilantro sprinkled on top.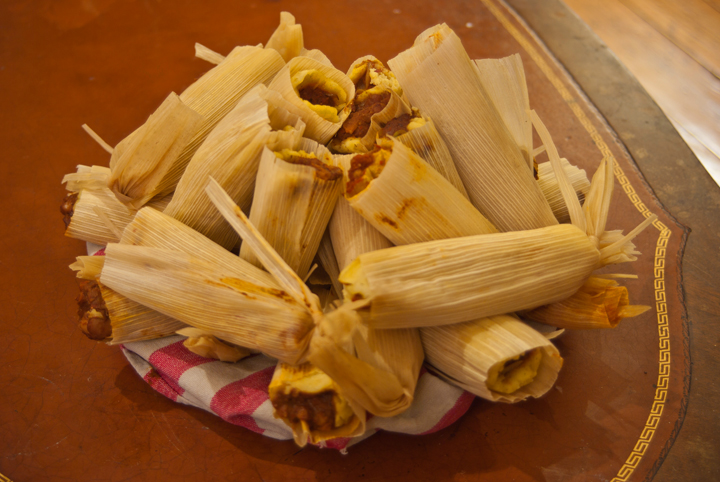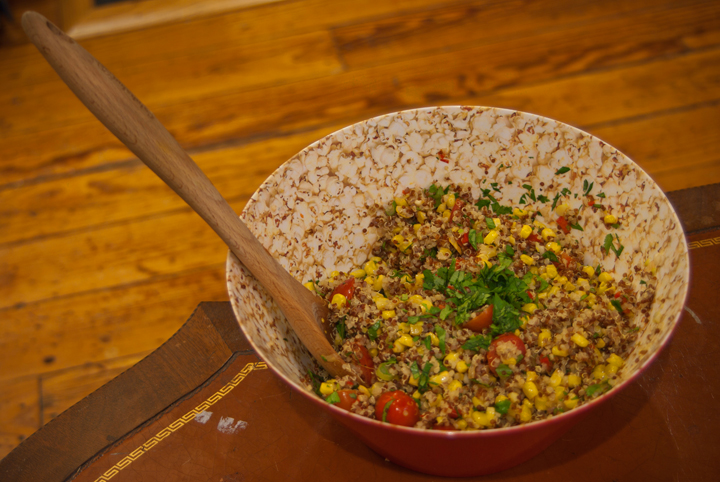 steamer for tamales purchased at Tarzian West, where you should go because they have an adorable dog loose in the store
dessert: homemade lychee-coconut sorbet (recipe posted in recipes section); tahini-lime cookies