dark chocolate Purely Decadent coconut ice cream; espresso
brunch: plantain stew over jasmine rice (click for the recipe); Dogfish Head Shelter Pale Ale
entree
3 ripe yellow plantains
~2 T Earth Balance
~2 T canola oil
~2 tsp olive oil
1 yellow onion, chopped
~5 cloves garlic, chopped (since they stew for a while, you don't have to mince them very small)
15oz canned chickpeas, drained and rinsed
28oz can diced tomatoes (I used Muir Glen Fire-Roasted)
oregano to taste (~1 tsp?)
cumin to taste (~1/2 tsp?)
coriander (~1 tsp?)
red pepper flakes (~1/2 tsp?)
chili powder (~1/2 tsp?)
salt and pepper to taste
15oz can coconut milk
1/2 c (or more) cilantro
juice of 1/2 lime (use the other half for wedges to serve)
Cook rice according to directions.
Peel and halve the plantains. Fry over medium-high heat in the Earth Balance and canola oil, flipping once, for about 3 minutes on each side (you should not cook the plantains all the way through, as they will cook more in the stew). Remove, dab off excess oil, and cut into ~1 inch chunks.
Saute the onion in the olive oil on medium heat. After a couple minutes, add the garlic. After a couple more minutes, add the plantains, chickpeas, and tomatoes (including the juice). Add the spices to taste. Once you think it tastes good, cover and reduce heat to low. Simmer for 15-30 minutes, stirring occasionally. The more you simmer, the tastier it gets (but don't simmer so long that the plantains totally disintegrate). Taste again, adding more spices if desired. Add the coconut milk, raise heat to bring to a boil, and then reduce heat to low again and cover. Simmer for 10-20 more minutes. Then stir in the cilantro and lime, and turn off heat.
Serve over the rice with extra cilantro and lime wedges. Serves 4 good eaters, or 8 wimpy eaters.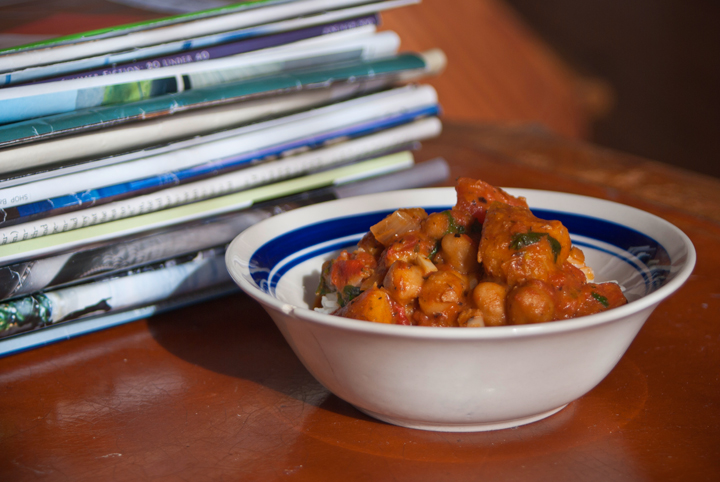 dinner: more of the same (stewed plantains over jasmine rice)
snacks at Marco's party: Magic Hat #9 (vegan according to Barnivore); Heineken (vegan according to Barnivore); baby carrots; green grapes; vegan couscous salad; potato chips
french fries with hot sauce and ketchup, plus a sweet potato fry, at 5th Avenue Diner
special chocolate chip cookie