breakfast: coconut yogurt; warmed pita with Earth Balance; coffee
cereal with Earth Balance brand soymilk (too sweet, but tasty) at lab meeting
lunch: leftover mashed potatoes; leftover bread-Tofutti-green-bean rolls; soymilk
dinner: quinoa with roasted veggies and vegan sausage (click for the recipe); Brooklyn Brewery Pilsner
entree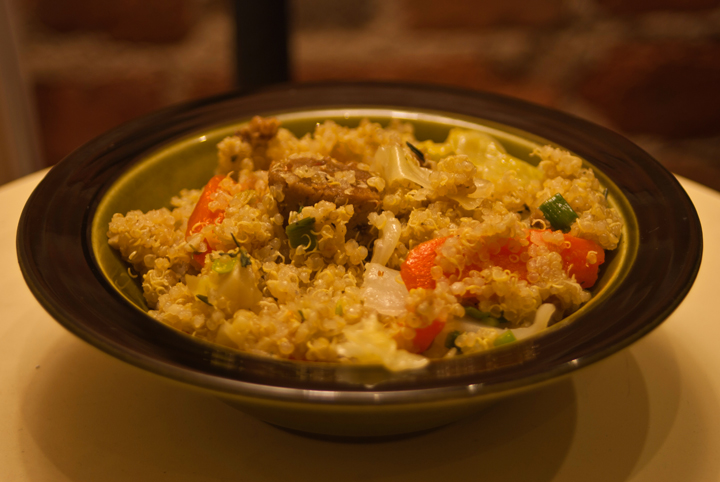 2.25c quinoa, soaked for at least 15min., rinsed, and drained
2c broth (I dissolve bouillon in hot water)
1c water
2 bay leaves
2 carrots, chopped
1/4-1/2 head of cabbage, chopped
half a bulb of fennel, chopped
red pepper flakes (a tsp if you want it to be spicy)
several sprigs of thyme
1 sprig of rosemary, chopped and then soaked in olive oil
2 Field Roast Italian sausages, cut into discs
4 cloves garlic, minced
an equal amount of ginger as garlic (about an inch), minced
olive oil
2-3 T Earth Balance (optional)
salt and pepper to taste
Combine quinoa, broth, water, and bay leaves in a pot with a pinch of salt.  Cook on med-high until simmering.  Once simmering, reduce heat to low and cover until cooked, about 30 minutes.  If water runs dry (steam stops escaping) and quinoa is not done, add more water.
In an oven-safe dish (like a Dutch oven), roast the carrots, cabbage, fennel, and red pepper flakes in olive oil with salt and pepper at 400F for about 20-30 minutes (until veggies are soft).
Saute the sausage in a bit of olive oil on med-low heat.  After browned on both sides, add the garlic, ginger, thyme, and rosemary.  After a few minutes (the garlic and ginger should be just starting to brown), add the roasted veggies and the quinoa.  Saute together for a couple minutes, optionally adding Earth Balance.