breakfast while watching Macy's Day Parade (from an apartment on the parade route!): poppy seed bagel with hummus and tomatoes; kalamata olives; coffee
lunch/snacks: raspberries; tofu jerky "wishstix" that came with the Tofurkey; vegan Johnny cake (sweet corn bread, basically); tastes of everything while cooking; Prosecco (may not be vegan); asparagus/Tofutti little baked rolls; Manhattan with a cherry; taste of almond milk to determine that I did not want to use it for mashed potatoes
dinner: Tofurkey (baste: olive oil, veggie broth, soy sauce, sage) with roasted vegetables (sweet potato, quartered onion, carrot, and garlic, tossed in a olive oil, salt, and pepper); portobella mushroom gravy (click for recipe);
sauce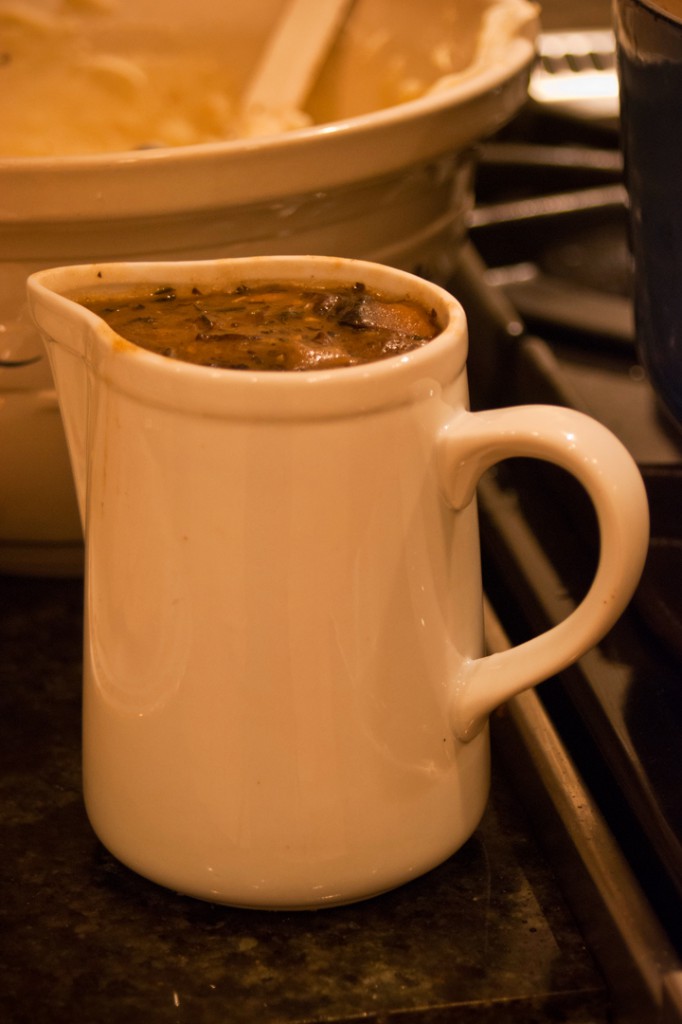 1-2 T olive oil
1 yellow onion, chopped
4-5 cloves garlic, minced
1-2 sprigs (~1 T) fresh rosemary, chopped a bit and then soaked in olive oil to soften
1-2 sprigs (~1 tsp) fresh thyme
5 portobella mushrooms, chopped
2 T Earth Balance margarine
2 T white flour
2-3c broth
salt and pepper to taste (if using a salted broth, probably not necessary)
Saute the onion in the olive oil. After a few minutes, add the garlic, rosemary, and thyme. After a few more minutes, add the mushrooms. Saute 5-10 minutes, until the mushrooms are cooked down.
Separately, make a roux. Melt the Earth Balance, and then add the flour bit by bit over heat, stirring to keep from sticking. Once all the flour is added, cook/stir for about 5 minutes.
To the sauteed vegetables, add 1 c broth and cook until simmering. Stir in about a third of the roux to thicken. After a few minutes, add a second cup of broth and more roux. Simmer for about 15 minutes, adding the remaining broth and roux as desired to achieve desired thickness. (I used all the roux and probably about 2.5c broth). Keep in mind that the gravy will thicken somewhat upon cooling, so the consistency while simmering should seem a bit too watery.
wild rice bread stuffing (click for recipe);
side
Recipe for 12-15 people
1 bulb fennel, chopped small
7-8 stalks celery, chopped small
1.5-2 yellow onions, chopped small
lots of fresh sage (about 20-25 leaves), minced
lots of fresh thyme (about 6-8 full/branched sprigs)
1.5-2c fresh parsley, chopped
2 tsp poultry seasoning
salt and pepper to taste
2/3 to 3/4 c Earth Balance margarine
2 loaves bread (I used Vermont bread company organic wheat), cut into cubes (not toasted!)
1 cup wild rice, cooked
3 c vegetable broth
Saute the onion, celery, fennel, sage, thyme, and seasoning in most of the Earth Balance (saving about 1/4 cup).  Add a few big pinches salt and pepper.  After the vegetables are well cooked (about 10 minutes), turn off the heat and stir in the remaining Earth Balance.
Toss the sauteed vegetables and the wild rice into the bread.  Slowly add the broth to desired consistency, turning with a spoon to combine (a lifting/turning motion is better than vigorous stirring, which makes it too mushy).  Don't add so much broth that there is unabsorbed broth at the bottom of the bowl, but don't be scared of it being pretty soft (I added the entire 3 cups for the type of bread I used).
In a coverable baking dish (I use a Dutch oven), bake at 350F for 30-40 minutes.  Remove the lid and cook uncovered for another 10-20 minutes so the top gets crispy.
roasted garlic mashed potatoes (red potatoes, boiled then mashed with Earth Balance, soy milk, salt, pepper, and an entire roasted head of garlic); another sweet potato dish; green beans; cranberry sauce; salad; red wine (may not be vegan)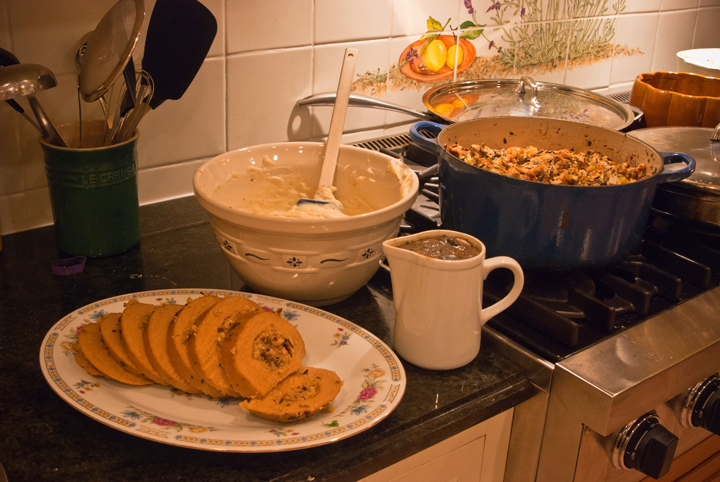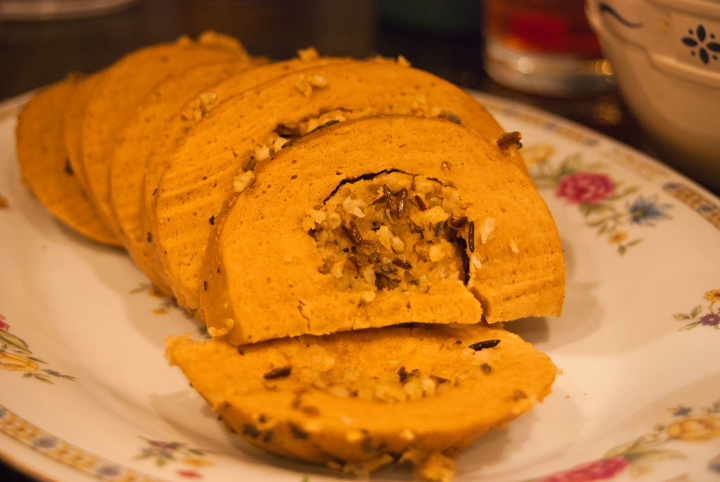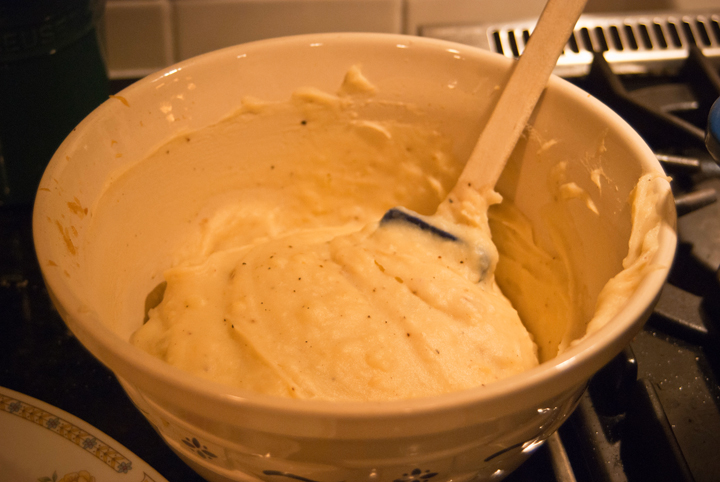 vegan apple pie; dessert wine (may not be vegan)