breakfast: toasted everything bagel with plain Tofutti cream cheese, tomato, and red onion from A.R.E.A. Bagels; coffee from Oren's Daily Roast
lunch from cafetasia to celebrate Carrie's wedding: pad thai without egg (they said this time that it had no fish or oyster sauce whatsoever and is vegan, yet I don't remember what they said last time… more research necessary to be confident) and with extra tofu; summer roll appetizer
Skittles (my first day back, and I have already returned to my stress-induced food of choice)
dinner: new variation on my rice sticks fascination: black bean-basil-cloves (click for the recipe). Red wine (may or may not be vegan).
entree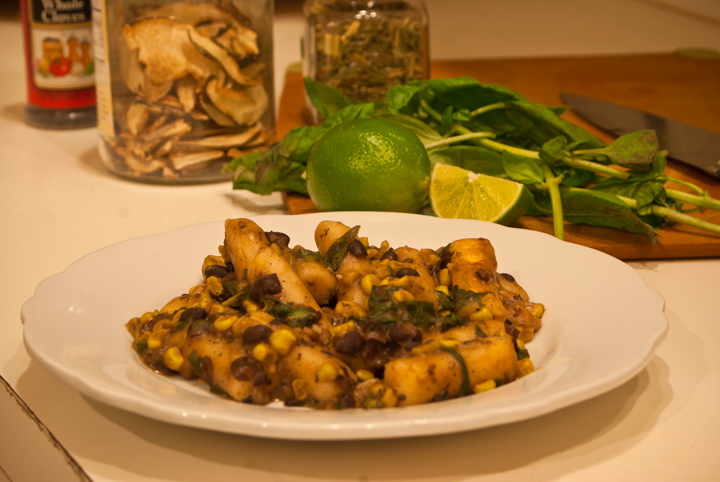 3 lb rice stick noodles
1/4 c dried shiitake mushrooms
1 T lemongrass (dried is okay)
1-2 bay leaves
about 10 dried cloves
black pepper
1-2 cups boiling water
1-3 T sesame oil (need to pin down the amount)
hot chili oil (to taste, depending on how much spicy you want it; I used about 1:2 hot chili:sesame)
5 cloves garlic, minced
1 can of black beans, rinsed
2-3 T vegetarian oyster sauce (tamari plus agave could work)
1 cup of corn (I just used frozen corn)
2 T black sesame seeds
big handful of basil, washed and chopped
1 lime
Cook the rice sticks per directions (e.g., boil them in water with canola oil to prevent sticking, draining when done, about 10 minutes).
While waiting for the rice sticks, prepare a broth by combining the dried shiitakes, lemongrass, bay leaves, cloves, black pepper, and boiling water.  Stir a bit to help release the shiitake flavors.  Let this steep aside.
Also, while waiting for the rice sticks, saute the garlic and black beans in sesame+hot chili oil for a couple minutes on medium heat.
When the rice sticks are finished cooking, set aside the beans+garlic, and saute the rice sticks in the same oiled pan for a few minutes, raising heat to medium-high, stirring constantly.  (Separately sauteing the rice sticks and the garlic help each brown nicely.)  Once the rice sticks have browned a bit on all sides, add back the beans+garlic, adding more oil if necessary.  Let cook a couple more minutes, then add the vegetarian oyster sauce, corn, and black sesame seeds.  Cook for a few more minutes, until it all seems like it is getting rather dry.
Still on medium-high heat, add the broth, letting it sizzle and then stirring to incorporate.  Turn the heat to low and let simmer in the broth.  The beans should begin breaking down, a thicker sauce appearing.  Continue simmering until the noodles have soaked up flavor, adding water to maintain a thick sauce.
Add basil several minutes from the end, and lime at the very end of cooking.