breakfast: coffee; toast with Earth Balance
lunch: leftover avocado pesto pasta; one tahini-lime cookie
bread with leftover avocado pesto; jalapeño + red pepper tortilla chips with salsa and homemade guacamole (avocado, fresh tomato, fresh cilantro, sea salt, minced red onion, lime)
Żywiec porter
dinner: mini seitan tamales (click for the recipe), served with vegan sour cream and fresh cilantro
entree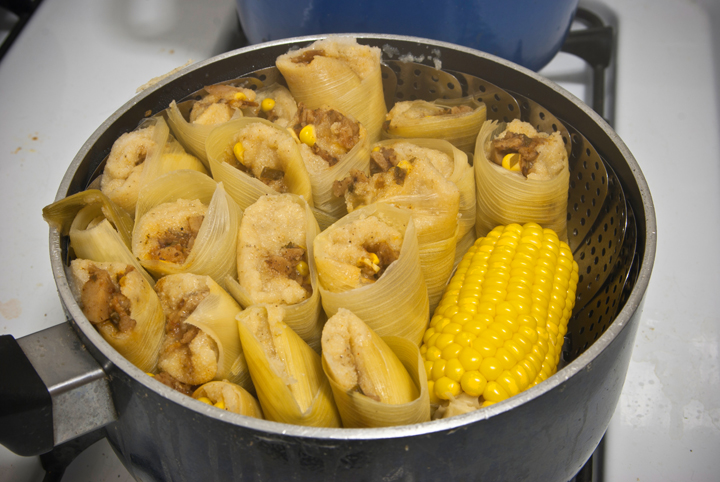 Filling (this makes an excess of filling; halve to have the right amount for the amount of dough)
about 4oz chopped jerk-lime seitan (mine was made by The Standard)
corn cut off about one cob
1/2 a red onion, minced
minced scotch bonnet pepper (1 pepper makes it pretty spicy)
big handful of fresh cilantro, chopped
2 T salsa
2 T tomato paste
splash (about 2 tsp) of vegetable broth
juice of one lime
Mix all together.
Dough
2 c white corn meal (supposed to use masa harina; I just used stone-ground "white corn meal" and it seemed to work fine)
1 tsp sea salt
1 tsp chopped cumin seeds
1 tsp cumin powder
dash of ginger powder (unintentional! But maybe good?)
dash of garlic powder
dash of black pepper
dash of salt
1/2 c canola oil
1 + 1/4 c vegetable broth
Mix dry ingredients. Add oil. Then slowly add broth.
husks off three cobs of corn
(NOTE: You can buy dried husks, but I couldn't find any, so I just got corn on the cob. They were in those packages where half the husk is remove, making it especially tedious. Surprisingly, it worked, making mini tamales that fit into a medium saucepan. The fresh corn added flavor and didn't require time to reconstitute dried husks. But they were small and a bit of a pain to roll, sometimes requiring two or three thin husks for one tamale)
Remove husks from corn on the cob. Spread a big spoonful of filling over about half of the length of the husk (about 3-4 inches). The filling should take up about 3/4 of the width of the husk, leaving clean 1/4 of the width along one edge.
Roll that clean 1/4 edge under the filling, width-wise, creating the bottom of the tamale. Then roll the tamale lengthwise. This is backwards of what tamales are supposed to be, but if you have the constraints of husks off the cob or of a shallow saucepan, it works.
Prop tamales upright (rolled edge downward, exposed filling upwards) in a pan for steaming, not letting them unravel. This is a bit difficult; use drinking glasses or other objects to prop them up as you continue to prep. If you run out of husks or dough without filling the entire pan, insert an object that can withstand steaming. Corn on the cob chunks work well.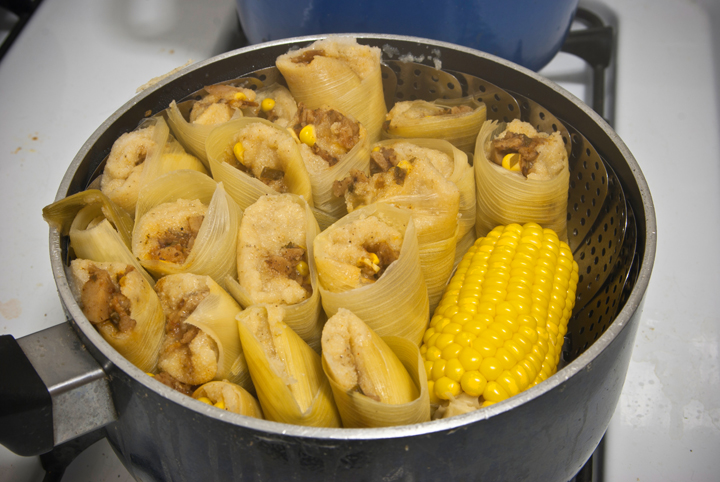 coffee; brownie batter and frosting while making birthday brownies