breakfast: Cheerios with soymilk; coffee; second half of Nana's chocolate chip cookie
lunch: leftover pasta with tempeh/olive sauce
snack: Alternative Baking Company cookie of the season, peanut butter chocolate chip (AT LEAST IT WASN'T LEMON POPPYSEED); a couple spoonfuls of Purely Decadent Dulce de Leche soy ice cream
dinner: black bean and sweet potato enchiladas (click for the recipe);
entree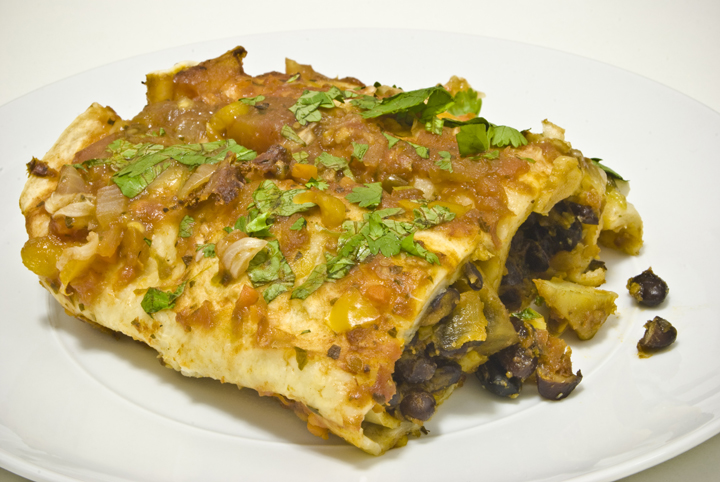 two large sweet potatoes or similar kind of potato (mine had a darker skin than typical sweet potatoes and were yellow/white on the inside instead of orange/red.. I don't know what variety of potato they were), peeled and chopped into chunks
1-2 T olive oil
2-3 cloves garlic, minced
1 chipotle pepper from canned chipotle in adobo, chopped small. Ingredients in case you want to try to make chipotle in adobo yourself: chipotle peppers, tomato puree, paprika, sugar, salt, onions, soybean oil, distilled vinegar, garlic, bay leaves, oregano.
1+ T adobo sauce from the canned chipotles (more if you want it to be spicier)
1 can (15.5oz) black beans
2 cups salsa
handful of cherry tomatoes, halved if small and quartered if big. Any form of diced tomato would work.
salt and pepper to taste
1/2 onion chopped very small (preferably red)
flour tortillas (about 8 large)
chopped cilantro (1/4 c or so)
one lime
Roast the sweet potato chunks in a bit of the olive oil at 400F for about 25 minutes, until tender.
In a saucepan, briefly saute the garlic and chopped chipotle in about a T of oil. Once fragrant, add the adobo sauce, beans, 1/2 c salsa, tomatoes, and salt and pepper to taste. Saute for about 5 minutes.
Lay each tortilla on a flat surface and add a couple big spoonfuls of the filling (it's okay if it seems like less filling than you'd want in a wrap… you eat this more like a casserole and the extra tortilla is tasty). Roll into a narrow cylinder.
Add about 3/4 c salsa to the bottom of a lightly oiled 9 x 13″ baking pan. Add the enchiladas side-by-side. Top with the remaining 3/4 c salsa along with the onion.
Bake at 350F for about 30 minutes, until it is browning and bubbling. Check halfway through to see if it looks dry, and if it does, add more salsa to the top. After removing from oven, sprinkle cilantro and squeeze the juice of the lime on top.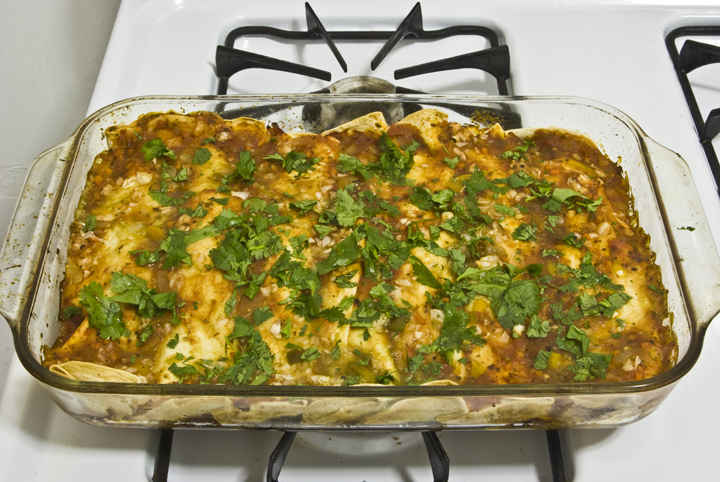 kale salad (a simpler version of the one I made two days ago. 1 bunch raw, washed, chopped kale marinated in 2 T olive oil and 1 T Bragg's, with sunflower seeds and 1.5T nutritional yeast. This time I tried "massaging" (kneading) the kale to help soften it. A girl at Rooting DC suggested doing this. She said it would eventually start oozing green juice, but all I got was a little green stain on my hands. I massaged it after it was chopped, washed, and dry. I'm going to try massaging the leaves whole to see if it has a bigger effect, and I'm going to try massaging it with a bit of water);
greinski (click for the recipe)
drink
1 or 2 shots whiskey (depending on how much you like whiskey)
juice of one entire juicy lime.  Use more limes if the lime is not very juicy.
dollop of agave nectar (about 1 T?)
large pinch of chopped cilantro
ice
Stir.