breakfast: Cheerios with soymilk; coffee from Brooklyn Standard
lunch: everything bagel with Tofutti cream cheese and olives, $2.72 including tax, from Giant Bagel Shop; rice crackers
snack: more rice crackers
dinner: raw kale salad from same recipe that Stacey and I tried at Rooting DC a few days ago (click for the recipe);
salad
Adapted from the recipe by Tracye McQuirter,
byanygreensnecessary.com
1 bunch kale, washed and chopped small. Spin to dry.
2 T olive oil
1 T Bragg's liquid aminos (use soy sauce if you do not have Bragg's)
half a red onion, chopped small
2 cloves garlic, minced
6 cherry tomatoes, quartered
2 T nutritional yeast
1 avocado, peeled and chopped
Toss kale in oil and Bragg's, and let marinate for at least ten minutes.  Add onion, garlic, cherry tomatoes, and nutritional yeast, mixing thoroughly to incorporate the nutritional yeast.  Add the avocado just before serving so that it doesn't brown.
soba (buckwheat) noodles dipped in soy sauce+wasabi+green onions;
agedofu and sauce (click for the recipe)
entree
TOFU
2 blocks tofu
a few T of corn starch
enough canola oil to fill a skillet to 1/2 inch
enough water to fill a bowl to 2-3 inches
2 T toasted sesame seeds (preferably black)
Towel-dry and then press the tofu (wrap it in a towel, and put a skillet or a few books on top), for an hour if possible.  While the tofu is being pressed, prepare the sauce (see sauce recipe a couple paragraphs down).
Start boiling the water in one pan (once it boils, lower heat but maintain a simmer) and heating the oil in a skillet (for a couple minutes until it is hot, but not burning/smoking).
Cut the pressed tofu into large cubes (about a cubic inch).  Dip the tofu into a small bowl with the corn starch, turning the tofu to thoroughly cover all sides.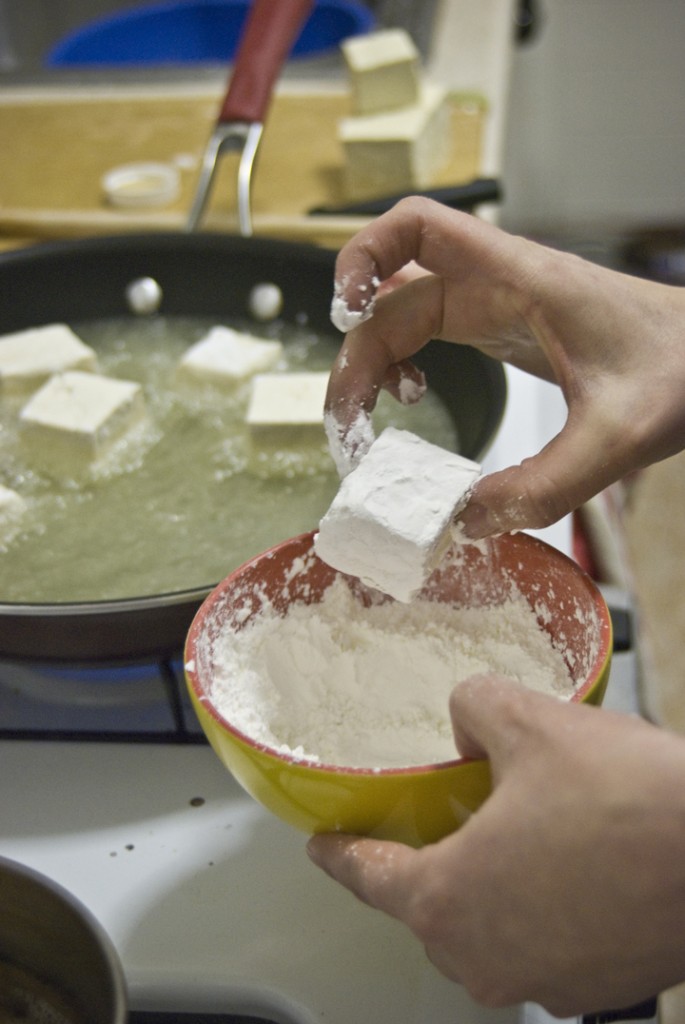 Place the starch-covered tofu in the hot oil and let fry for several minutes until the bottom starts to brown.  Once it starts to brown, flip the tofu to cook the other side.  While the second side cooks, pour the boiling water into a bowl.  Once the tofu has browned on all sides, remove it from the oil and place in the hot water.  Then remove it from the water and place one side in a bowl with the sesame seeds to coat.  Serve sesame-seed-side-up in a bowl with the sauce.
SAUCE
1/4 c shiitake mushroom broth (I buy dried shiitakes from H Mart, and simmering a handful of these in water makes mushroom broth
3 T soy sauce
3 T rice vinegar
1 clove garlic, minced
1 scallion, chopped
1 T grated fresh ginger
1/2 tsp sesame oil
1/4 tsp red pepper flakes
Combine all ingredients.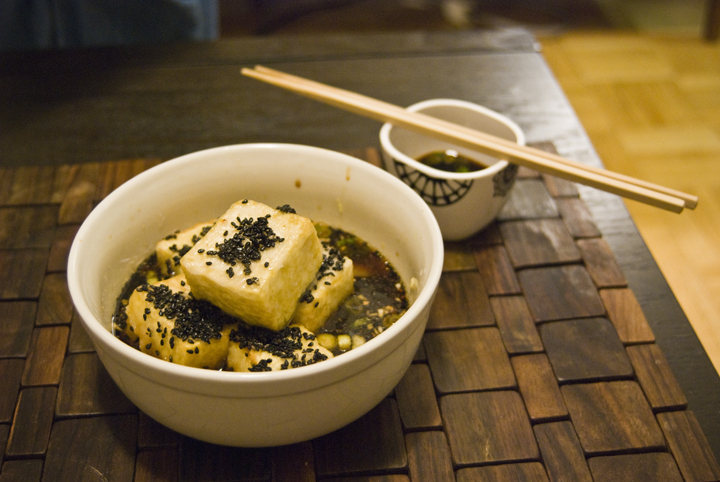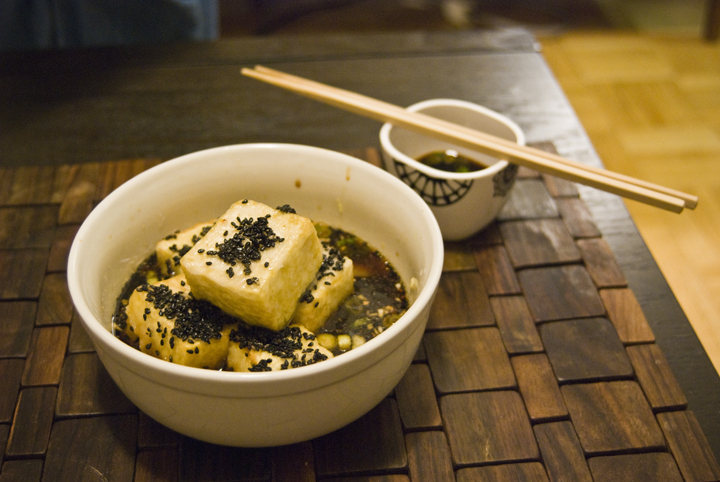 late night snack: Purely Decadent Dulce de Leche soy ice cream